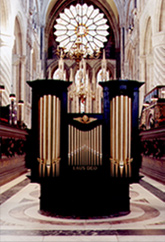 Welcome
Lammermuir Pipe Organs is the only workshop 'north of the border' in the British Isles specialising in building new, mechanical action organs. The business was established in 1983 by Neil Richerby with the aim of designing and constructing mechanical action organs which aspire to the highest standards in musicality and craftsmanship. Our approach, while not following any particular school of organ-building, is contemporary from a traditional stance and each instrument is custom-designed.
My current work back-log will see me working up to (and perhaps beyond!) my 70th birthday. It would seem unwise to commit to working beyond that point - I may even consider retirement! Thank you for your interest in my work, but it seems only fair to suggest that you should look elsewhere for your project.
It may, however, be of interest that our Opus 70 Practice Organ, built in 2016, is looking for a new home. The owner is moving and wishes to sell his organ. It can currently be viewed in our workshop. Enquiries by email are welcome.

All photos by Peter Backhouse.